Dr. Philip Watson Recognized as 2021 Physician of the Year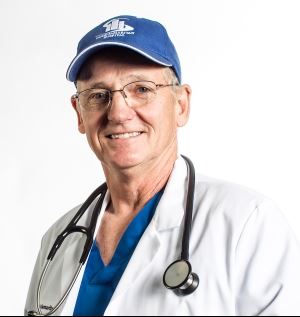 The Physician of the Year Award for 2021 was given to Dr. Philip Watson, Interventional Cardiologist / Pulmonologist. This award, also referred to as "The SAMMIE" for Samaritan Award for Meritorious Medical Care with Integrity and Excellence, was created in 2020 to recognize individuals who demonstrate exceptional skills in clinical practice and who uphold the mission, vision and values of Good Samaritan.
Dr. Watson has been on the medical staff at Good Samaritan for 38 years. He started his career at the hospital under the leadership of the late Dr. Louie Dayson practicing pulmonary intensive medicine. Having trouble recruiting a cardiologist at this time, Dr. Watson was sent to training to become a board-certified interventional cardiologist. It was at this training in Chicago, Illinois where Dr. Watson met his friend and colleague, Dr. Philip Bacidore. Dr. Bacidore said Dr. Watson is very deserving of the award.
"Oh he's great," laughed Dr. Bacidore. "He's a good friend, wonderful physician, smart. He's always been intuitive. He thinks outside the box; sometimes too much!"
Throughout his career at Good Samaritan, Dr. Watson has worked with patients on the inpatient unit within the hospital, and in the outpatient setting at the Dayson Heart Center. Filled with knowledge and always reaching to learn more, Dr. Watson has been a valuable member of the teaching staff with the medical students who have come to Good Samaritan for training and education.
"He practices with energy and enthusiasm," said Dr. Alan Stewart, last year's recipient. "And even though he is only a few years behind me in age, he still reminds me of that young kid that showed up in our office. I've called him on weekends when he's not on call and nurses will ask me, 'are you sure you want to page Dr. Watson since he's not on call' and I said Phil would rather be here at the hospital taking care of a sick patient than sitting on a beach relaxing somewhere.' That's the Phil Watson I know."
Dr. Watson and Dr. Anitra Graves worked side-by-side throughout the COVID-19 pandemic on the inpatient unit at Good Samaritan. "He has committed so much of his career to this community and to the patients at Good Samaritan, as well as his colleagues," said Dr. Graves. "He was extremely conscientious in guiding the hospital and advising them on how to prepare for COVID. He did a lot in helping guide our ventilation systems and PPE. He was an asset."
"Dr. Watson is the Physician of the Year every single day," added Dr. Scott Stine. "Every time I speak to him, no matter what is going on, he is always focused on the best care for his patients."
In order to be considered for the Physician of the Year Award, candidates must be an active or associate member of the medical staff for at least one year and have demonstrated at least one or more of the following qualities:
Exceeded expectations of his or her practice or profession
Made a significant difference in the life of a patient, staff member or colleague
Contributed substantially to the community through community service or support
Provided high-level leadership to Good Samaritan and the medical staff
Fostered the spread of medical knowledge
Dr. Watson receives this award just in time for his retirement at the end of this year. "To get anywhere in life it takes a team," said Dr. Watson. "I have been fortunate to have a team member in my wife throughout my career. I also have been blessed with the best partner for 36 years working alongside Dr. Bacidore. Good Samaritan, the community of Vincennes and my colleagues have been the perfect fit in my life and I thank them for allowing me to practice medicine for so many years."
To view the video of Dr. Watson receiving his award, click HERE.