Schedule Now
Find a New Doctor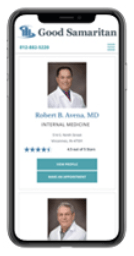 Looking for a new Primary Care Provider or Specialist? Search here or call 812-885-8500 to schedule a new patient appointment.
Schedule With Your Doctor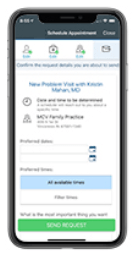 Log in to MyChart to schedule an appointment with your current doctor. Don't have a MyChart account? Sign up now. Need to request Proxy Access? Download Proxy Request Form here and then return it to your physician office, Good Samaritan Registration or Medical Records.
---
Online Scheduling Services
Choose a service below and schedule the appointment time and location that works best for you.
Mammography
A screening 3D mammogram is a safe, accurate diagnostic test that helps trained experts spot abnormalities. The American College of Radiology recommends that women over age 40 have mammograms on a yearly basis.
Convenient Care Clinic at William Bros. Healthcare Pharmacy
Appointments at this clinic must be scheduled through MyChart.
To schedule an appointment login to MyChart, Click on Your Menu > Under Immediate Care click Convenient Care (Good Samaritan) > Choose Good Samaritan Physicians Convenient Care Washington Ave > Select desired appointment time > Submit your contact information to continue scheduling your appointment. If you do not have a MyChart account, you can click here to register:
Laboratory
Once you have an order for blood work, you can schedule an appointment for your blood draw to spend less time in the waiting room.
COVID-19 Testing
COVID-19 testing is available at the Good Samaritan Convenient Care Clinic Willow Street location by appointment only. To be tested at this location you must schedule your testing appointment online through our COVID-19 Test Scheduler.