Good Samaritan Physicians Recognized as Outstanding Preceptors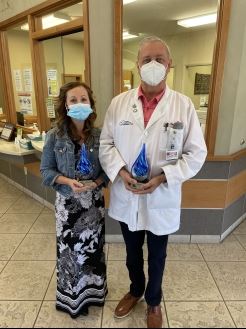 Good Samaritan Physician Network physicians, Stephen Cullen, DO, and Amy Archer, DO, was recently presented with Outstanding Preceptor Awards from the Indiana Area Health Education Centers (AHEC) Network. Recognizing the value of supporting, mentoring, and educating future health care professionals, particularly in rural communities, is critical to the mission of Indiana AHEC. In Washington, Indiana, Drs. Cullen and Archer not only recognize the value of medical education, but they have also committed themselves and their practice to help ensure a strong pipeline of future health professionals in southwest Indiana.
In addition to the fact that these providers precept about 24 students annually (and would take even more), they provide clinical experiences to medical students from both Indiana University and Marian University, physician assistant (PA) students, and nurse practitioner (NP) students. Their willingness to provide family medicine and behavioral health clinical experiences to future health professionals across a variety of disciplines creates a breadth of understanding and strengthens the interprofessional healthcare team.
The safe learning environment and strong educational focus leave students excited about family medicine and with greater interest and understanding of health care in a rural community. Students consistently provide positive feedback on the tremendous learning experience provided by these preceptors.
"I could not think of two more deserving physicians to receive this recognition," said Adam Thacker, Chief Operating Officer at Good Samaritan. "Students precepting with Dr. Cullen and Archer get to see the delivery of compassionate care and clinical excellence that make their practices special."
Dr. Cullen graduated from the University of Health Sciences College of Osteopathic Medicine in Kansas City, Missouri, completed five years of active duty in the United States Army Medical Corps, and has been providing primary care in rural southern Indiana since 1983. Dr. Cullen is also a Retired Lt. Colonel in the Indiana National Guard, where he served a tour of duty in Operation Iraqi Freedom. He also holds certificates of added achievement in sports medicine and geriatric medicine, in addition to his board certification in Family Practice.
Dr. Archer is a graduate of the Kansas City University of Medicine and Biosciences – College of Osteopathic Medicine, and she completed her residency at the Wichita Center for Graduate Medical Education. She is board certified by the American Board of Family Medicine and shares her knowledge of eating disorder prevention and treatment through public speaking and counseling. Dr. Archer has been providing primary care in rural Indiana for over 12 years.