Event Details
Free Stroke Screenings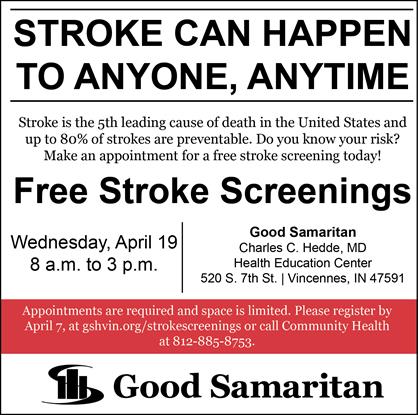 About This Event
Event Type:Community Health
Details:
Good Samaritan is offering free stroke screenings to the community. These screenings will be on Wednesday, April 19, from 8 a.m. to 3 p.m. (ET) at Good Samaritan in the Charles C. Hedde, MD Health Education Center. During the screening, attendees will visit multiple booths offering different tests. These tests include; blood pressure, body mass index (BMI), lipid profile, A1C, carotid artery screening and atrial fibrillation. Educators, registered nurses and a dietician will also be offering valuable information and hand-outs describing the different ways to decrease the risk of stroke.
Registration
Price:

Free
Registration Instructions:

Appointments are required for the screenings and space is limited. Those interested in making an appointment can go online and register at gshvin.org/strokescreenings or call Community Health at 812-885-8753.