Good Samaritan Welcomes New Physician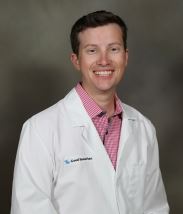 Good Samaritan is excited to welcome William C. Thompson, III, DO to the organization. Dr. Thompson specializes in Sports Medicine and Family Practice. Born and raised in Monroe City, Indiana, Dr. Thompson went to Indiana University for his undergraduate degree and then later earned his doctorate from West Virginia School of Osteopathic Medicine. "I have always been surrounded by medicine," he said. "I grew up down the road from my father's practice in Monroe City, Indiana, and was always in the office speaking with patients and helping my dad. It was originally my grandfather's practice and that history solidified my goal of being a family medicine physician."
Building trusting relationships and getting to know his patients is how Dr. Thompson plans to practice medicine. Coming back home to Vincennes was always in his plans of where he wanted to provide patient care. "Good Samaritan is home," he said. "I was born in this hospital and I am excited to be back here where it all started." In his free time, Dr. Thompson enjoys hunting, fishing, gadgetry, and anything involving Indiana University basketball.
Although practicing medicine is often about procedures and medications, he encourages patients to also find joy in their lives. "We can all talk about the nitty-gritty aspects of health care," said Dr. Thompson. "But keeping a smile on your face and laughing can oftentimes be the best medicine."
Dr. Thompson is now accepting new patients. He is seeing Sports Medicine patients one day a week at Good Samaritan's Center for Therapy and Sports Performance located at 2020 S. Clearview Drive in Vincennes. To schedule an appointment, call 812-885-8590. Dr. Thompson is also seeing Family Medicine patients at the Petersburg Medical Clinic located at 611 N. Main Street in Petersburg, Indiana. Call 812-354-8426 to schedule an appointment.