Roy Inglis to Receive N. Philip Shelton Humanitarian Award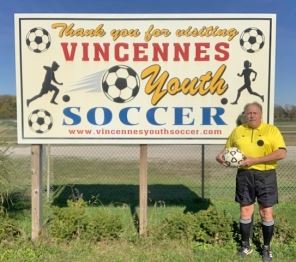 Defined by the Merriam-Webster dictionary, a humanitarian is "a person promoting human welfare and social reform." When deciding on the recipient of this year's Dr. N. Philip Shelton Humanitarian Award, no one fit the definition as well as Roy Inglis.
Roy was born in Troy, New York on August 21, 1957. The youngest of five siblings, he grew up working at a dairy farm a half mile up the road from his house. "Working at the dairy farm, I started to learn about hard work," he said. "That experience of shoveling out the barns, cleaning out the chicken coop, unloading hay bales and driving tractors taught me how to work through tough times." Staying active, Inglis played baseball and soccer in high school, and later added volleyball to the mix while in college.
Inglis began his career in Knox County at Vincennes University in 1983 as the Assistant Director for the Health, Physical Education and Recreational facilities. This assistant director position included overseeing the university's PE complex, aquatic center, student recreational facility and all outdoor facilities. At the same time, he was also the physical education instructor and soccer coach.
Throughout his life and career, the game of soccer was more than just a pastime for Inglis. He began refereeing youth soccer 46 years ago in 1975. He is a member of numerous soccer committees and associations and even played competitively in his mid to late 40s. His love for the game is so great, that Inglis is the Founder and Director of the Vincennes Youth Soccer Association (VYSA). "We are celebrating our 30-year anniversary for the association with around 500 participants this fall," said Inglis. "Since my retirement from Vincennes University in 2014, I have taken on the VYSA full time by mowing the grass, placing and repairing goals and nets, cleaning benches, emptying garbage cans and performing field renovations like seeding." Since its initiation, the VYSA has had between 12,000 to 15,000 participants, many of which have gone on further to play in high school and college.
In addition to his extensive work with youth soccer, Inglis has a broad list of other interests he has been a part of over the years. He is a Level III Certified Ski Instructor, supporter and player at the Men's Hockey League in Evansville, a member of the National Intramural Recreation Sports Association, a member of the NSCAA / United Soccer Coaches Association, volunteers with Helping His Hands on trips to help in recovery efforts after disasters, and occasionally likes to till his neighbor's gardens for them.
"I enjoy leaving a lasting impact on others," said Inglis. "In order to gain and build on anything, you have to spend time developing things from the bottom up. It's about creating a good foundation for our youth."
Although he has had his fair share of setbacks, including his hemorrhagic stroke in October 2019, he has learned to be tough and resilient in everything he does. "I am thankful to my friends and family for their support and help over the years, whether it was with the soccer league or helping me through rehab after my stroke," said Inglis. "I thank everyone for this honor of receiving the award. I have been aware that this award has been given out to many noteworthy recipients. Little did I expect that it would be me getting it this year."
Inglis will be presented with the Shelton Award on Sunday, November 7 at 2 p.m. in the Charles C. Hedde, MD Health Education Center. The public is invited to attend.
A family physician in Vincennes, Dr. Shelton lived a life of dedication to his community and serving others. In recognition of his service, the Dr. N. Philip Shelton Humanitarian Award was established in 1998 by the Vincennes Kiwanis Club in partnership with Good Samaritan. The purpose of the award is to recognize and promote humanitarian achievement in our community.
Shelton Humanitarian Award nominees must be Knox County residents who have demonstrated extraordinary efforts in working to improve the general well-being and happiness of others; worked consistently to meet the physical, social, economic and/or educational needs of individuals in our community; and exemplified the spirit of Dr. N. Philip Shelton by actions and deeds. Some of the past winners include Dr. Alan Stewart, Hugh Schaefer, Horace Foncannon, Scott Shipman, Mark Hill, Siegfried E. Schleicher, Jimmie Morrison, Nancy Carie, Jennifer Jones, Velma Hendrix, John Lyons and Max Renshaw.