Men Can Get Breast Cancer Too
Each year in October the country is inundated with pink to bring awareness to the fact that 1 in 8 women will develop breast cancer in their lifetime. Pink ribbons, as well as a multitude of other pink items, serve as a reminder to women to schedule their breast cancer screening. What isn't widely recognized during this awareness month, is that men get breast cancer too.
The American Cancer Society estimates that in 2021 there will be 2,650 new cases of invasive breast cancer diagnosed in men and that about 530 men will die from breast cancer. To help increase awareness that men get breast cancer too, President Joe Biden has signed a proclamation declaring October 17-23, 2021 as Male Breast Cancer Awareness Week. During this week it is encouraged to add some blue to the normal pink ribbons to share awareness for male breast cancer as well.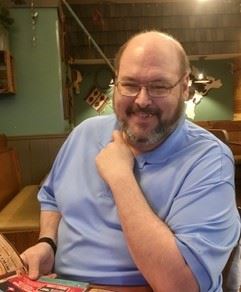 On September 22, 2021, the Vincennes community and Good Samaritan lost one of their own to male breast cancer, 49-year-old Matt Bowman. Bowman was a 30-year employee of Good Samaritan where he worked as a nurse on the surgical inpatient unit. Just before his passing, Bowman earned his Bachelors in Nursing from Vincennes University. He was also a lieutenant at the Vincennes Township Volunteer Fire Department.
Bowman was diagnosed with breast cancer in 2017 and underwent 16 weeks of chemotherapy and seven weeks of radiation. After completion of his treatment, Bowman went back to life as normal working full-time as a nurse and working on his bachelor's degree. Then in May of 2021 Bowman had developed a persistent cough which turned out to be a result of his breast cancer returning and metastasizing to his lungs. He was diagnosed with stage four cancer.
Pat Buntrock, Bowman's mother, said after his initial diagnosis, her son became an advocate for male breast cancer awareness.
"He got involved with the Male Breast Cancer Coalition and he made it his mission to spread awareness that men get breast cancer too," she stated.
According to Good Samaritan's Marketing Director, Tiffany Conover, Bowman became an advocate within Good Samaritan to get male breast cancer information out to men in the community. "He was so dedicated to his mission that he signed up to volunteer at health fairs, like Good Samaritan's Men's Health Fair, to educate men about male breast cancer," she said. "He was persistent in his efforts to make sure we had male breast cancer information on our website and that we shared information on social media."
It is through the Male Breast Cancer Coalition (MBCC) that Buntrock got connected to Patricia Washburn, whose husband, Marlyn, lost his battle with breast cancer in 2017 – just five months after being diagnosed with the disease. He was 66 and had been diagnosed with stage four metastatic breast cancer. Like Bowman, Washburn had made it her mission to spread awareness of male breast cancer. She is a global ambassador for the MBCC.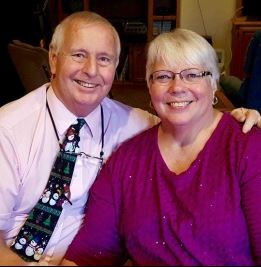 After his breast cancer diagnosis, Marlyn Washburn opted to purchase a breast cancer awareness license plate with the personalization "MEN 2" to place on his 2014 Dodge Dart. After his death, his wife decided to have Marlyn's vehicle turned into a moving billboard to honor her husband and to spread awareness of male breast cancer. On both sides, the vehicle features the message "Breast Cancer Does NOT Discriminate" written in pink, with the words "MEN TOO" written in blue just below. The hood of the car features a picture of Marlyn from the time he was diagnosed. Washburn said the car has been lovingly dubbed "The Marlyn Mobile."
Marlyn died in May 2017. Since that time, Washburn said she has traveled roughly 75,000 miles across the United States telling others about male breast cancer. "Most recently, a co-founder of the Male Breast Cancer Coalition traveled with me on a 29-day, 15-state trip around the western half of our country," she stated. "We were able to meet with over 50 of our male survivors, caregivers, and other family members who have been impacted by male breast cancer. Our purpose is to educate and advocate for our men. We also wanted people to know they are not on this journey alone."
According to the American Cancer Society, the average age of men when they are diagnosed with breast cancer is 72 years old, however, Washburn stated "sadly, many of our men have been diagnosed in their 30s, 40s, and 50s."
Washburn said during the first week of the 29-day trip, they were informed that one of the men they had come to know through the coalition, Frankie, had lost his battle with breast cancer at just 39 years old. "One month later, three more of our MBCC brothers died from breast cancer," she added. "Michael was 65, Matt Bowman was 49 and Ken was 69."
For Male Breast Cancer Awareness Week, Washburn is bringing the Marlyn Mobile to Vincennes. "My reason for traveling to Vincennes is to meet Matt Bowman's mother and colleagues," said Washburn. "I want them to know they are not in this fight alone to make people aware that men can, and do, get breast cancer."
During Washburn's visit to Vincennes, they will be making stops in the Marlyn Mobile at Good Samaritan and many fire stations in town to help spread awareness. Buntrock is excited about the opportunity to spend time with Washburn and become an advocate herself for her son.
"We honor Matt by continuing his goal to spread awareness about male breast cancer and hope that in doing so we can save lives," Buntrock said. "For families with a high incidence of breast cancer in their females, men should be vigilant in self-breast exams. Even if there is no strong family history of breast cancer, men should be doing self-exams." Men can learn more about breast self-exams at breastselfexams.org.
According to the American Cancer Society, the risk factors for breast cancer in men include:
Aging – the risk factor goes up as a man ages
Family history of breast cancer – about 1 out of 5 men with breast cancer have a close relative, male or female, with the disease
Inherited gene mutations – BRCA2 and BRCA1, also mutations in CHEK2, PTEN, and PALB2 genes may be responsible for some breast cancers in men
Klinefelter syndrome
Radiation exposure in the chest area
Alcohol – heavy drinking of alcohol
Liver disease-causing uneven hormone levels, lower levels of androgens, and higher estrogen levels
Estrogen treatment
Obesity
Testicular conditions – having an undescended testicle, having mumps as an adult, or having one or both testicles surgically removed
Signs and symptoms of breast cancer in men may include:
A lump or swelling, which is often (but not always) painless
Skin dimpling or puckering
Nipple retraction (turning inward)
Redness or scaling of the nipple or breast skin
Discharge from the nipple
To learn more about male breast cancer, please visit malebreastcancercoalition.org or gshvin.org/breastcare. To help raise awareness of male breast cancer, special t-shirts are being sold through the Tri-State Fan Page at tristatepande.com. Proceeds from the shirts will go into a scholarship established by Matt Bowman to provide funding to Good Samaritan employees pursuing healthcare-related educational opportunities such as conferences or certifications. Shirt sales end on November 1, 2021.